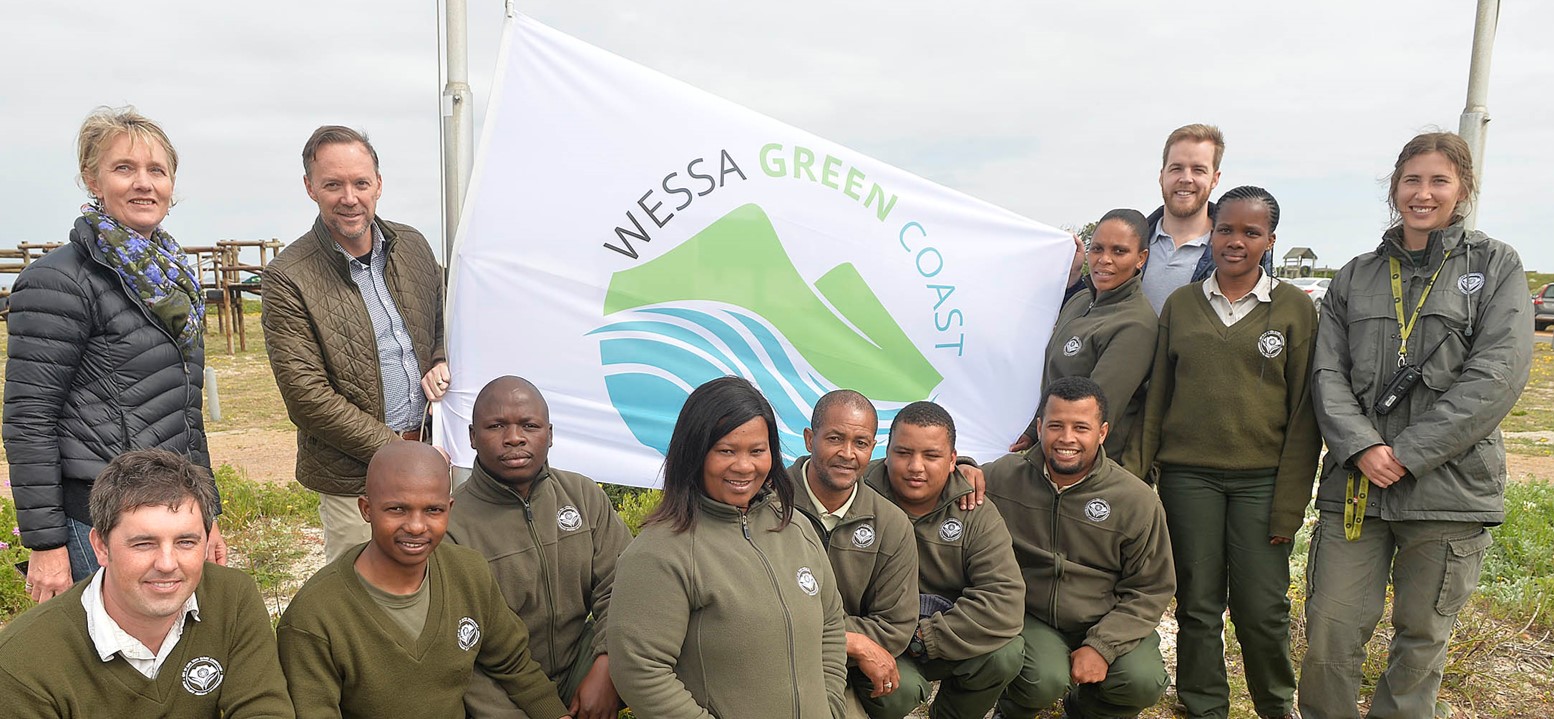 14 Sep

Blaauwberg Nature Reserve receives the first WESSA Green Coast site award

14 September 2018

The Blaauwberg Nature Reserve was awarded the first WESSA Green Coast award in South Africa. The launch that took place on Friday the 14th of September saw the Friends of Blaauwberg Conservation Area (BCA) receive their WESSA Green Coast award. The Friends of BCA and the City of Cape Town is the implementing partner and have ensured that the Blaauwberg Nature Reserve have met all the WESSA Green Coast criteria.

Blaauwberg Nature Reserve was proclaimed a local and provincial nature reserve in 2007. The reserve has a spectacular view down fynbos slopes, across the city, to seven kilometres of rocky and sandy coastline and the ocean and beyond. The reserve presents itself as one of the few viewpoints in the world from where you can see two proclaimed world heritage sites, namely Table Mountain and Robben Island. The reserve effectively conserves critically endangered fauna and flora species, one of which is the African Black Oyster catcher.

According to Rob Slater, WESSA National Coastal Coordinator: "The Blaauwberg Nature Reserve has shown ongoing commitment to conserving and monitoring its sensitive coastal areas and maintained a high standard set out by the WESSA Green Coast criteria."

The WESSA Green Coast award aims to actively promote sensitive beaches along the South African coastline. The Green Coast Award was created to challenge local government to manage their sensitive coastal sites more effectively and to promote citizen science. Green Coast sites aim to protect one of three main coastal themes namely; sensitive habitats, species and cultural heritage. Green Coast sites appeal to a specific sector of the tourism market who are looking for experiences in adventure, outdoor living and nature tourism along our coastline. The Green Coast award assists these sites by putting them on the tourism map and promoting them all under one tourism standard.
By achieving Green Coast status, Blaauwberg has provided a system for sustainable management of its sensitive coastal space as well as to engaged local citizens to become involved in management of this unique site.
In his keynote address, Councillor Brett Herron, the City of Cape Town's Mayoral Committee Member for Transport and Urban Development said,
"It is an amazing honour for the City of Cape Town's Blaauwberg Nature Reserve to receive the first Green Coast Status Award in the country.
We want to thank WESSA for recognising the hard work, effort and passion of people in our Environmental Management Department and the Friends of Blaauwberg Conservation Area organisation, who is partnering with us in this area.
As the most biodiverse city in the world, we have a responsibility to conserve and protect this unique biodiversity. But we cannot do it alone. Valuable partnerships with local communities and organisations enable us to sustainably manage our precious fauna and flora while also providing opportunities for environmental education, sustainable tourism and the empowerment of local communities."
WESSA continues to work towards effectively conserving and monitoring the South African coastline through incentivising sustainable tourism practises and conservation efforts.

For more information contact:
Rob Slater, National Coastal Coordinator – Robert.slater@wessa.org.za

Image 1: Councillor Brett Herron giving the key note address
Image 2: official WESSA Green Coast flag hand over
Image 3: WESSA Green Coast flag.